Confirmation 2020 - 2nd year decision point chapter 9 Kahoot
​

---
Confirmation Interview

​All second year Confirmation students are to have an interview prior to receiving the Sacrament of Confirmation. This is a one on one conversation with the youth to see where they are currently with their faith. Teens will be asked questions regarding their personal faith journey.as well as, the Roman Catholic faith. If the teens need a study guide, please print the one attached. Please select a time for your interview by clicking the button below.

Confirmation Mass Time Sign up

Please use the button below to select the Confirmation Mass time you would like to receive the Sacrament. Both Masses are bilingual this year.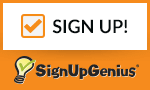 ---
CONFIRMATION SPREADSHEET
To see the up to date PAPERWORK TURNED IN by your teen click here:
(you'll need your student's Confirmand #):


Para ver los DOCUMENTOS ENTREGADOS por su hijo(a) puede oprimir este botón:
(necesitará el número "Confirmand" de su hijo):


---
​Confirmation Dress
For Girls
◊ Dress – No straps, strapless, or tank dress. Shoulders should be covered. Dresses should be as long as fingertips by side. No mini-dress. It does not matter the color. We do not wear robes so please note the dress will be seen!
◊ Shoes – if you are wearing heels or new shoes, feel free to bring them to wear to practice!!
◊ No jeans, short skirt/dress

For Boys
◊ Dress pants and shirt. Coat and tie are optional.
◊ No jeans, tennis shoes, shorts
​
For Both – please remember this is a very special day for you in the eyes of the Church- please dress appropriately!

Confirmation Rehearsal
July 13, 14, and 15
Teens 5:00 pm - 7:00 pm
Sponsor or Parent 6:30 pm

Confirmation Day
July 20, 21, 22 6:30 pm Mass

PLEASE SIGN UP FROM THE CALENDAR PAGE OR ON SIGN UP GENIUS

código de vestimenta de confirmación
Para chicas
◊ Vestido – No se puede usar vestidos sin tirantes, vestido de tanque. Los hombros deben estar cubiertos puede usar un suéter. Los vestidos deben ser tan largos como la punta de los dedos por el lado. No mini vestido. No importa el color. Nosotros no usamos el vestido debe ser apropoado
◊ Zapatos: si usa tacones o zapatos nuevos, puede usarlos en el ensayo
◊ No jeans, falda corta / vestido,

Para chicos
◊ Vestir pantalón y camisa. Saco y corbata son opcionales.
◊ No jeans, tenis, shorts.

Para ambos, recuerda que este es un día muy especial para ustes a los ojos de la Iglesia. Visten appropiadamente.

Ensayo de confirmación


día de confirmation




---
1st YEAR CONFIRMATION STUDENTS
IT IS TIME TO REGISTER FOR DECISION POINT CLASSES - CLICK, PRINT AND TURN IN THE DECISION POINT FORM

May 18, 2020