DECISION POINT is the first Confirmation program specifically developed to engage young Catholics in a meaningful conversation about the genius of Catholicism. It teaches and inspires teens to respond to God's grace, and it's changing hundreds of thousands of young lives. Today, DECISION POINT is the most used Confirmation program in America.
All 2nd Year Confirmation Students should have received and chosen a time block to attend the Decision Point classes. Summer and school year dates may be combined as long as the student attends all 6 sessions by January 2020. If you have not received the form you will find it attached below. Please return the forms to the black box outside the faith formation office or turn it in with your registration packet.
​
Los adolescentes que están en su segundo año de preparación para la confirmación deben tomar 6 clases de preparación para la confirmación, adicionalmente a las clases de los domingos. Ofrecemos tres opciones para estas clases de Decision Point.
- O bien, pueden asistir a los seis domingos (de 10:00 a 11:30 am) durante el ciclo escolar 2019-20 (recuerden que esto es adicionalmente a su clase de ese domingo).
Pueden mezclar las clases (días y horarios) de acuerdo a lo que mejor les funcione.
Para registrarse, deben hacer clic en este botón de "Sign Up!"
Y no se les olvide que deben inscribirse a sus clases de los domingos. Lo pueden hacer en línea
aquí
, o en la oficina de Formación de Fe.
School Year 2019-2010SUNDAY's from 10:00 am – 11:30 am
September 22 Lesson 7
September 29 Lesson 8
October 20 Lesson 9
October 27 Lesson 10
November 3 Lesson 11
November 10 Lesson 12
To sign up, please click link below, complete the form and return it to the Youth Ministry Office or sign up on Sign Up Genius
​Or you may go to the calendar page to register through sign up genius.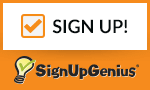 Decision Point
​Sunday Morning Classes